The Texas A&M Cycling Team--A Personal History
by Rick Denney
This article was published in the magazine of USA Cycling in October of 2001, as part of its continuing series of articles on collegiate cycling programs. It is based on a letter I wrote to the Texas A&M Cycling Team in 1996, to expand on the history that they had included on their web page; a letter which they have published on their site. Their history started in late 80's, but mine started much earlier. Their presentation of the article included some errors that were never corrected, and USA Cycling allowed me to update it and turn it into something that would stand alone before publishing it. But it's nothing like a real history, being more of a snapshot than a chronology. All photos by the author. See the update at the bottom.
The Texas A&M Cycling Team was born at least as far back as 1976. My own arrival at A&M that year saw me overweight with athletic credentials limited to working as a stocker at a grocery store. But all students were subjected to Physical Education Concepts in their first year, and in it I distinguished myself as the Man Most Likely To Keel Over By Age 30.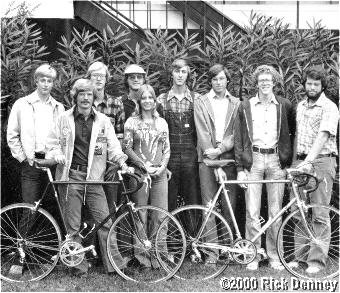 The 1978-1979 Texas A&M Cycling Team. We were part of the Texas A&M Wheelmen this year. From left: John Young (Houston), Dan Harrison (on staff at A&M that year), Gene Kraft (Houston), Myron Gerhard (San Antonio), Laura Sandberg, Mike Fulfer (Houston), Malcolm Bredemeyer (Winters, Texas), John Simmons (Houston) and Rick Denney (Houston).
That first semester, I happened to be wandering through the Memorial Student Center Student Organization Fair, which was held all one September Saturday night to acquaint students with the diversity of extracurricular student programs. Turning a corner, I was confronted with an amazing sight: Two guys going for all they were worth on roller trainers. One of them was Myron Gerhard, who was the spiritual and moral leader of the A&M Cycling Team for the following several years. He also had the distinction of having the best liked and most admired girlfriend in all of cycle-dom. Laura Sandberg also raced bikes, and teased us lesser mortals with impunity. She and Myron, last I heard (which was a very long time ago), were happily married.
The other guy was the practical leader of the team, David Champlin. David was a graduate student in Architecture, and he was the guy who made things work. If we needed to post flyers, he was the guy who could put his hands on a copy machine code that would send the bill elsewhere. Both were Category 3 racers (at the time, the United States Cycling Federation—now USA Cycling—only went to Cat 4, which is where the freds like me ended up).
Myron had a Crescent bicycle, complete with the standard orange paint and checkerboard decals. We gave him hell over that orange paint (orange being the color, of course, of the hated arch-rival University of Texas at Austin).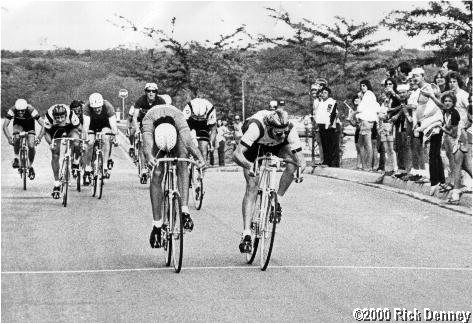 Gene Kraft getting edged out at the line at Primavera Bicycle Race in Austin, probably in 1980.
John Simmons taking a flyer around a corner at the A&M Stage Race, 1980. He surprised everybody with his road sprinting ability, but one look at those thighs should have killed the surprise.
I was hooked. It just looked so cool. In particular, the machines looked cool. So, the next Saturday, I was out there with my JC Penney water pipe bicycle, all 40 pounds of it, to ride the combined A&M Wheelmen/Cycling Team morning ride to Steep Hollow. This gentle ride proved to be 25 miles of torture for my unfit legs. But, I was still hooked.
Back in those days, college students like me were dirt poor. I paid $50 for an Atala bike, a bike-boom frame that had the advantage of being my size, and built a passable bicycle. Mostly, I replaced the Campy Valentino (which is proof that Campagnolo has not always marked the heights of bicycle equipment) with first-generation Japanese enthusiast-quality stuff, like the excellent Sun Tour Cyclone rear derailleur. I thought that bike was pretty sophisticated, but of course I'd take any cheapie Trek over it now. Eventually, I worked two jobs one summer and, in 1978, commissioned Bill Moore in Houston to build a custom frame. Bill was the quintessential hippie frame builder, despite his day job as an electrical engineering doctoral candidate. He lived in Houston's Montrose neighborhood, Bicycle Central for Houston's most avid cyclists at the time. But I digress.
The A&M Cycling Team blossomed in 1978 with the addition of a new generation of athletes to support the older guys. Our favorite bike shop was Andre's, which was in an old building about the size and shape of a small mobile home just on the other side of Bottle-cap Alley from the Dixie Chicken. The Chicken was and still is a standard student imbibery on the fringe of campus, and in those days they poured the used bottle-caps in the alley to make a sort of pavement that was hell on bicycle tires. We occasionally visited the only other decent bike shop in town, the Wheel Works, more of a typical neighborhood Schwinn shop.
John Young rounding a corner during a race. Biting one's tongue while racing is not a good idea, but John-Boy lived a charmed life.
My own involvement grew as I became the general support guy for the team. My slowness kept me from contributing in races, but I did ride 300+ miles a week, much of it with the fast shaved-leg crowd. I became a USCF Certified Official, because somebody who was not a jerk needed to do it. I didn't enjoy that job much. Bikies in those days had an attitude, and now that I'm a triathlete I realize that the same fellows with the same attitudes are now called roadies, and in many ways I am one, except that my slowness prevents much self-absorption. Ultimately, I became the USCF District Representative in Texas and sanctioned races statewide in 1980. We need to remember, though, that cycling was a smaller world in the U.S., and smaller still in Texas. We had about 15 races a year in Texas, for about 250 licensed racers. And, of course, we had no mountain bikes, although we did have cyclocross. The cyclocross national championships were held in Austin in 1979, I believe, and was our first glimpse of national class riders competing against each other in Texas. Larry Malone ruled the day on that occasion, as I recall. The next year, riders such as Greg Lemond (a junior at the time) and Tom Doughty came to Texas for one of the spring races, and that grew into what became the Tour of Texas in the 80's.
Had someone predicted a fellow Texan would someday win three Tours de France in a row, we'd have laughed hysterically, though perhaps a particular pugnacious little kid in a north Dallas suburb was even then watching us and dreaming of someday going much faster. It was rare in those days for an American to merely participate in the Euro-pro ranks, let alone do so competitively.
Darrell Edwards leading another Aggie through a turn.
Cycling was my salvation, then; as I went from a chubby, unfit, engineer geek to a chubby, fit, engineer geek. When I left A&M, I stopped cycling entirely, got fat (270 pounds), and descended into unredeemable geekdom. Then, in 1994, I had an Attainment of Knowledge, vis-a-vis being able to walk down the hall to the men's room without going anaerobic, and began a program of weight training, good eating, and cycling. I'm now as fit and fast (slow) as I was in my A&M days. So, cycling has saved me twice. Few of my cycling-team friends from those days know or would believe that last year I completed an Ironman triathlon.
Let's get back to the team. In 1977, the A&M Cycling Team, for the first time, received support from the University's Extramural Sports Association, in the amount of $750 a year (for the whole team). We fielded about a dozen racers. We also constituted the first A&M Cycling Team to have uniform jerseys. Dye sublimation and lycra were still in the future, and our custom jerseys, from Emily K, were a blend of wool and polyester. They were white with maroon side panels, and had Texas A&M Cycling Team embroidered on the back. They went well with our wool shorts, which, of course, had real leather chamois pads, not the fake stuff they sell now. Of course, the new stuff works so much better. Clipless pedals? What were those? I still have my pair of Detto Pietro racing shoes, complete with Christophe cleats that had to be nailed onto the leather sole of the shoe. My last cycling purchase before my first retirement was a pair of very slick Marressi racing shoes that had integral cleats and a molded plastic sole. They are still comfortable.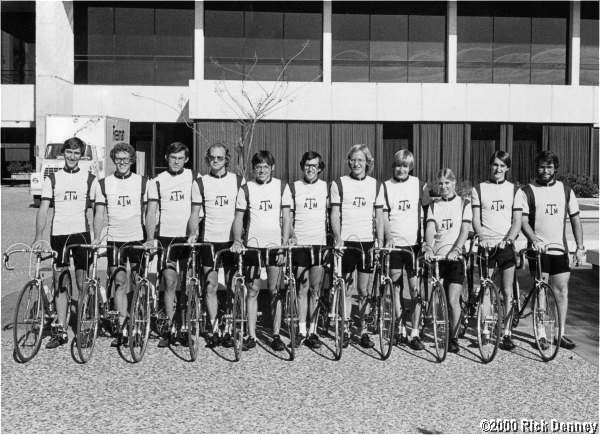 The 1979-1980 Texas A&M Cycling Team, sporting new jerseys. From left: Mike Fulfer (Houston), John Simmons (Houston), Malcolm Bredemeyer (Winters), Myron Gerhard (San Antonio), Darrell Edwards (Houston), Tim Purcell (Dallas), Gene Kraft (Houston), John Young (Houston), Laura Sandberg, Willem Visser, and Rick Denney (Houston).
I also still have that old jersey, and I've been promising to show up to a Saturday ride as Retro Man, wearing that jersey and riding all my old stuff. But I don't have a helmet from that era—we wouldn't wear them. Only tourists (um, freds) wore them, right? (I only had one concussion from a crash.)
My bike was made from Columbus SP tubing, with a Haden fork crown and bottom bracket and Campagnolo dropouts. It has a 40.5-inch wheelbase, and 17-inch chainstays. It looks now like it was made in the 40's: Very stretched out. It was easily the stiffest road sprint bike on the team in 1978, despite that it weighed 24 pounds. All the drivetrain was Campagnolo Record Strada, and it still works beautifully. Of course, we only had five cogs in the back, and those were usually straight blocks (13-17). Our small chainring was never smaller than 42 teeth, so we had to muscle up the hills. We spent a lot more time on the small chainring in those days.
I was the first guy in town to have a pair of Dura Ace wheels. They were the first generation, and they are still wonderful. But the Campy stuff is so much more elegant. I even had some Zeus stuff. If you remember Zeus (Campy's Spanish competition), then you can also show up to a ride as Retro Man.
Now, of course, I ride, among others, an Eddy Merckx MX-Leader with all Campy Chorus stuff, and, of course, it works much better than the old Moore. But there was life before indexed shifting.
The cycling team of that era was the first to enter into collegiate cycling competition. I don't remember the details, but our contestant was John Young, and I recall that he did well. At that time, it was too new for us to be much involved, and we raced in regular USCF races. We were the only organized college cycling team in Texas at the time. John now sells wholesale bicycle parts for Riteway, and enjoys a lot of respect in the industry.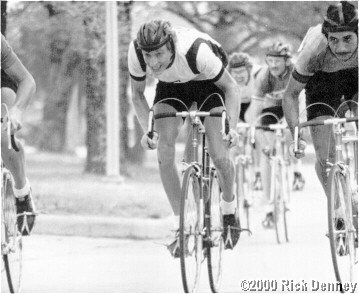 John Young again, this time in a sprint during the Texas A&M Stage Race in 1980.
So, there you have it, some stories from the first years of the Texas A&M cycling team as recalled by one of its minor members. There are lots of other stories that lurk at the fringe of memory—rides with Hans Schneider (now a respected frame builder), Jerry Anderson (also still in the bike business); races won by John Howard (our one, true Texas celebrity); rides where we fought battles with bananas as weapons; races where 12 of us shared a hotel room. But these histories escape easily. College is the habitat of transients, and memories are short, even at Texas A&M. We've all gone our separate ways and have mostly lost touch with each other. But current separation will never diminish the spirit and camaraderie that can be best shared in a college cycling team.
Update, 2003/2004: Several of the old members of the A&M Cycling Team have run across this site and corresponded with me. It is so good to communicate with old friends again. John Young left the bike business, and now is a respected businessman in a central Texas town, owning several businesses. Gene Kraft is in Seattle, riding for fun and watching his teenage son race mountain bikes. He married Karin Fernbach, who was also part of the team. Scott Yarbro and his family lives in Wyoming, and Scott Hill with family still lives around College Station as apparently also does Mike Fulfer. Jerry Anderson is no longer in the bike biz, but is still keeping in touch from time to time. At last report (now several years old), David Champlin ended up in Houston after sojourns in Lubbock and Dallas. Myron Gerhard is currently living in Denver, and still rides the trails there to keep fit for his annual mountain century. Laura Sandberg (Laura, if you read this email me!) is now in Portland, Oregon, and is reportedly deeply involved as ever in horses. I seem to be the only one to have gone east, but the dispersal is pretty wide for all that.